THE BROKEN ARM - EPK
Erik Friedlander tosses away his bow for this new band, playing only pizzicato in a world steeped in the influences of Oscar Pettiford and the small group feel of Herbie Nichols.
PRESS
"..post-bop, post-cool, post-Mondrian, experimental But he doesn't forget how to swing." Ed Pinsent 10/08/2009
"..refreshingly unique." - John Frederick Moore (JAZZIZ_Jan/Feb 2009)
Lucked out with March 09 JazzTimes a nice feature by Eric Fine and an excellent review by A.D. Amorosi: "In other words, it's gorgeous, soulful and smart."
"****1/2..constantly surprises, assaying glorious, if highly odd, musical horizons. Highly recommended! [read more]"
--Jan P. Dennis, Audiophile Audition
"..It's their superhuman cohesiveness that makes this all work. That, in turn, makes Broken Arm Trio a standout success. Erik Friedlander can really go to town.. [read more]"
--Pico, BlogCritics.org
"And what "out there" music list would be complete without an entry from Erik Friedlander? "Jim Zipper," from his "Broken Arm Trio," is about the most fun you can have in only 68 seconds." --Mark Saleski, Picks & Best of 2008, Jazz.Com Blog
"Top 10 albums of 2008." (#10)
-- Michael J West, Washington City Paper
"This is effervescent small-group jazz executed with wit and soul."
--Nate Chinen, New York Times, October 19

"But Broken Arm Trio, a band and album that's at least as beholden to Alan Lomax as to Charlie Parker, is stunning-both in what it does and how well they do it. This quirky fusion deserves major attention."
-- Michael J West, Village Voice

"BROKEN ARM TRIO: An Erik Friedlander record by any other name is still and Erik Friedlander record and this is no exception. To the manor born, this jazzbo has a music biz pedigree and has taken his cello to the heights of the progressive underground having provided the special sauce to just about every recording by every artist in this arena that matters. Here he let's loose with his latest trio, pushing the envelope of where the intersection of jazz and classical can possibly meet. A tasty, ear opening set that defies expectation, progressive tastes will know the underground is alive and well once they catch this clarion call. (Skipstone)" --Chris Spector, Midwest Record

"Broken Arm Trio is a homage to jazz great Oscar Pettiford, a bass player who broke his arm as a young man (playing basketball, so the story goes) and turned erik2to the cello while his arm was recovering. He's generally credited as helping popularize jazz cello, and it's his legacy that inspires Friendlander and his buddies." Review from BlogCritics Magazine
"... breathtakingly effortless." --–Brian Morton, Point of Departure (scroll down)
"...unique and tremendously satisfying trio debut." --Dirk Richardson, The Absolute Sound Review
"Entoure de deux grosses pointures de la scene jazz new-yorkaise (le batteur Mike Sarin et le contrebassiste Trevor Dunn), et impregne des classiques du genre signes Charlie Parker, Lester Young ou Count Basie que son pere aimait a ecouter inlassablement, Erik Friedlander devoile une enieme facette de sa personnalite et de son talent, en privilegiant ici le fingerpicking, une specialite dont il est devenu un maitre inconteste." [read more] --OndeFixe (Blog)
"Friedlander ademas de estar inmenso con su pizzicato, tiene el merito de superar con nota esa enorme responsabilidad de ser el compositor de todos los temas. Dunn y Sarin, por su parte, estan perfectos tanto en su papel de acompanantes como de solistas. El resultado es un disco totalmente disfrutable y que muestra la cara mas jazzistica de estos tres enormes musicos." [read more] --Buscando un nombre (blog)
"Cellist Erik Friedlander is vooral gekend in jazzkringen waar klassiek geen scheldwoord is. De man bracht een negental spraakmakendecd's uit en werkte met eigenzinnige muzikanten als John Zorn en Dave Douglas." [read more] --RifRaf
"Meanwhile further contemporary jazz emanates from America in the shape of Erik Friedlander and his Broken Arm Trio (SKIPSTONE RECORDS 003). This talented cello player has here made a very approachable and warm record with the help of Trevor Dunn and Mike Sarin; the trio clearly feel comfortable together, they leave lots of space for each other, and the vibe I'm getting so far reminds me of some favourite records by early Ornette Coleman groups, or the record Eric Dolphy made with Mal Waldron. The title is taken from an anecdote about bassist Oscar Pettiford, one of the few jazzmen to have used the cello, which according to Friedlander is "an untapped resource" in jazz." [see website] -- Ed Pinset, The Sound Projector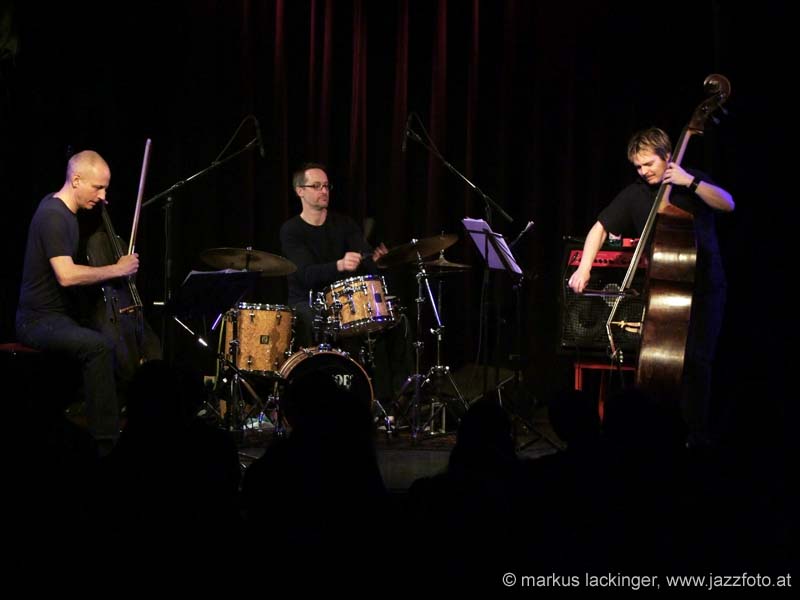 THE PROJECT
Accident Leads To Invention:
In 1949 Oscar Pettiford broke his arm playing baseball.
He could still move his fingers even though his arm was in a sling, so he began experimenting with a cello a friend had lent to him. He tuned the cello like a bass only an octave higher and later made history recording a series of cello-led projects including the great, under-recognized 1964 Fantasy release, "My Little Cello" featuring a photo of his newborn son whom he named Cello
Erik Friedlander tosses away his bow for this new band, playing only pizzicato in a world steeped in the influences of Oscar Pettiford and the small group feel of Herbie Nichols.
Erik Friedlander, cello, Mike Sarin, drums, Trevor Dunn, bass
PHOTOS (click for high rez)
LINKS
AUDIO
Listen!
NEWS
New Remix in the Works
Scott Solter is busy on on a remix EP of 5-6 tunes from the Broken Arm Trio CD. Very excited about this..more soon.
New CD
We will be going into the studio to record the new music we worked on out on the road this past January 2010..update soon.
New Reviews
A whole bunch of new European reviews have been coming in. You can read them below, just click on the banner or "read more"
NY Times Review
Music Review | Erik Friedlander's Broken Arm Trio
Making the Cello Jazzy: It's All in the Pizzicato Pluck
By NATE CHINEN
Published: March 30, 2009
The cellist Erik Friedlander possesses a deep, singing tone on his instrument, and when he gives into it completely, he can be a heartbreaker.
Read More
BIOS
ERIK FRIEDLANDER
"Erik Friedlander can do things with a cello that should have a reasonable listener fearing for her life," says PitchforkMedia.com,
"Rostropovich one second and Rottweiler the next." Cellist Erik Friedlander, a virtuosic veteran of NYC's downtown scene, has backed John Zorn, Laurie Anderson and Courtney Love. New York's Erik Friedlander is a composer and an improviser, a classical musician and a jazzbo. He has recorded 8 CD's as a leader and has always worked to stake out new ground for the cello in both his compositional choices and his dynamic improvising style. Whether its solo playing or performing with one of his bands Friedlander' blends his vision of what the cello can be pushed to do, while maintaining a firm grasp on traditions, both improvising and classical. He is the son of Lee Friedlander, the photographer known by musicians and jazz aficionados for the cover photographs he took for Atlantic Records.

TREVOR DUNN
Bassist Trevor Dunn is already known for his intense musical diversity: 1) as co-founder/composer of the avant-rock band Mr. Bungle and 2) as the ubiquitous sideman of countless groups in the jazz circuit of the San Francisco Bay Area, such as Graham Connah's Sour Note Seven (Andrew Hill/Mingus inspired septet), Ben Goldberg's various Trios and Sextets, and John Schott's Diaglossia Ensemble.
With a background in punk/death metal, the instrumental and compositional studies of contemporary classical music, and the experience of playing blues, standards, and free-jazz, Trevor is now leading his own Trio-Convulsant with guitarist Adam Levy and drummer Kenny Wollesen.
Trevor has also worked with the Kronos Quartet, the ROVA Saxophone Quartet, Wayne Horvitz, William Winant, Terry Riley, James Tenney, Ellery Eskelin, Gerry Hemingway, Wadada Leo Smith, Henry Kaiser, Mark Izu, and Eyvind Kang.
MICHAEL SARIN
Drummer Michael Sarin established himself as a high caliber jazz drummer and improviser while playing in the Thomas Chapin Trio. A native of Seattle, Sarin had relocated to New York by 1991, when the trio recorded the album Anima for Knitting Factory's label.
The Chapin Trio continued to record excellent albums until the loss of Thomas Chapin in 1998.In addition to being a core member of this group, Sarin has worked frequently with such genre-leading musicians as bassists Mark Dresser and Drew Gress, pianist Myra Melford, violinist Mark Feldman, guitarist Brad Shepik and many more.
ARCHIVE
AUGUST, 2008
Artwork is finished!
Kio Griffith, the amazing artist from Los Angeles, has finished the artwork and the CD is now being manufactured by DiscMakers and will be ready soon.
MARCH, 2008
Here's a quick look at the mastering I did with Steve Berson over at Total Sonic Media.
FEBRUARY, 2008
The record is recorded and mixed! Scott Solter spent 48 hours in San Francisco's Tiny Telephone Studios mixing my record and I'll be mastering soon. I'll be posting some samples here soon as soon as I get the CD scheduled for release..artwork, liner notes...you know the deal.
There are many mysteries in the art of sound engineering. One is revealed here and now as Scott Solter applies The Schmoovner
NOVEMBER, 2007
Plans for a new recording are going ahead. We look to record in January of 2008 with Mike and Trevor. Engineering will be my friend and colleague from Block Ice & Propane Scott Solter . ..more news as it develops.
MAY, 2007
NOVEMBER, 2005
The Trio is back from a very successful Portugal/Italy tour. Our Limited Edition CD SOLD OUT! Many thanks! Check back for an online offering and more pics and MP3's

Hello
calling card
from Vietnam . Well known this
SEO
firm to see great ROI . Терра-Евролекс - продаем
окна
деревянные в Украине.